A lifestyles experience a Nude pool Las Vegas Private VIP club
Sea Mountain dance lounge club and lifestyles club. Swim, hot tub, star gaze or rock out in our nude resort gardens.
Yes, you can visit just for an evening event every night of the year with full access to all our facilities.
Sea Mountain Swingers Club Las Vegas and Night club and Eve Spa Nude Resort is A Club unlike all others. This is what you need for a romantic and exhilarating night. Dance from dusk to dawn. The most exclusive lifestyles experience in the world.
Come party like a rock star, live your fantasies, lingerie and less evenings in the hot Nevada Desert – Exotic delights of the night – Sea Mountain – Sea Mountain comes to life for you – Welcome to the Dance of pleasure – A true ultimate upscale experience – Evenings washed in water, dance or quiet contemplation under the stars. The only whirlpool and pool open, much less nude whirlpool and pool Las Vegas all night long – A unique experience, an evening where time stands still – An evening made by you for you – Come on kiss the sky – From Hollywood celebrities to sports legends, this is your VIP private time to indulge.
See why Playboy® called us – Best place to be nude.TMZ has called Sea Mountain the ultimate celebrity secret.
VH1 in there new special showed the Sea Mountain as the most sensual celebrity retreat and ranked it the top romantic resort experience that you can have.
The New York Times lists Sea Mountain Resort as the only nude resort to recommend in the U.S.
Entry to the Sea Mountain Las Vegas is for Couples and Women Only
How this form works: Once you have completely filled out the reservation request form, click the submit button. Your request is immediately sent directly to our reservations center via email. We will contact you to confirm any reservations.
Please Note: This is a reservation request only. If you do not receive confirmation of your stay within one week of submitting your request please contact us.
I understand that Sea Mountain Las Vegas is a membership ONLY private Zen Retreat and requires a deposit donation in order to make a reservation. I understand this is a clothing optional retreat and membership only and not open to the general public.
A cancellation fee of $50 will be taken for cancellations at any time. There is a strict seven day cancellation policy as any reservations or deposits are non-refundable for any cancellations made 7 days prior to arrival.
Call today for information and reservations: 702-859-9460
Please read our Policies and Terms of Use (click here)
ALL RATES ARE SUBJECT TO CHANGE WITHOUT NOTICE AT ANY TIME.
Day Beds / Prayer beds Sea Mountain
Sit above the crowds on your own dedicated designer hand carved Luxury Day bed with flowing fabrics and Canopy shaded with magnificent padding enjoy pool side or Designer Whirlpool Side.
$99-$399 per day bed from 10:30am 1:00am.
Add on the Dusk to dawn party for an addition $499 per daybed.
---
Incredible relaxation from your Cabana day bed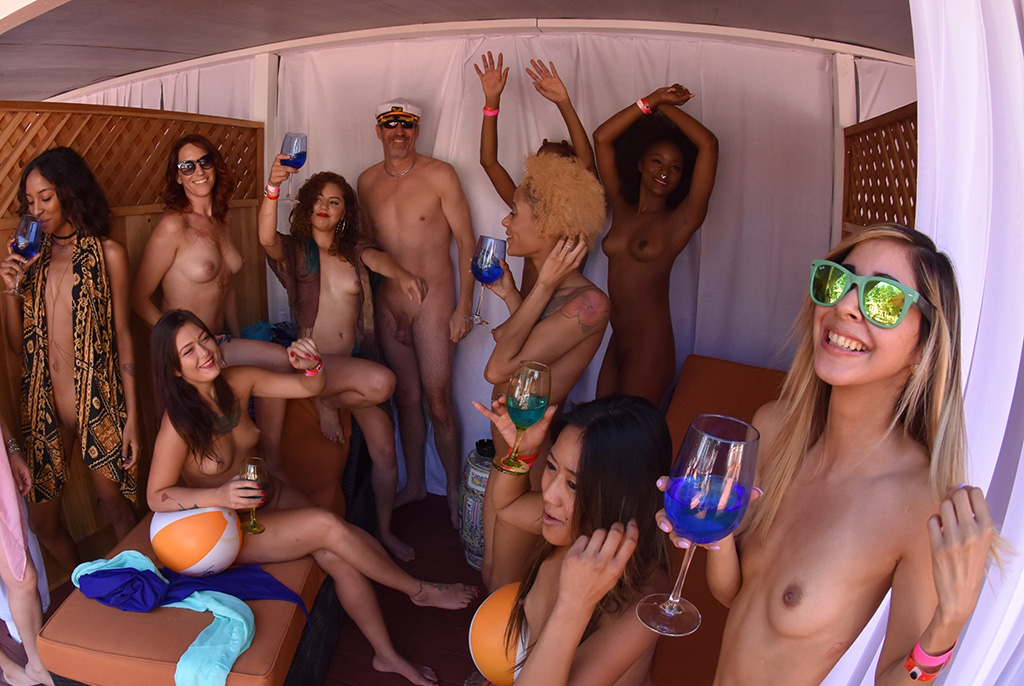 Shade and lux padding, Enjoy personal TV, mini fridge and fan ventilation as you gaze above the sexy crowds directly in front of the Main Nude Pool Ultra luxury!
$249-$499 cabana for two from 10:30am to 1:00am
Add the dusk to dawn elite party for an additional $599 per cabana.
---
VIP INDOOR Hydro Cabana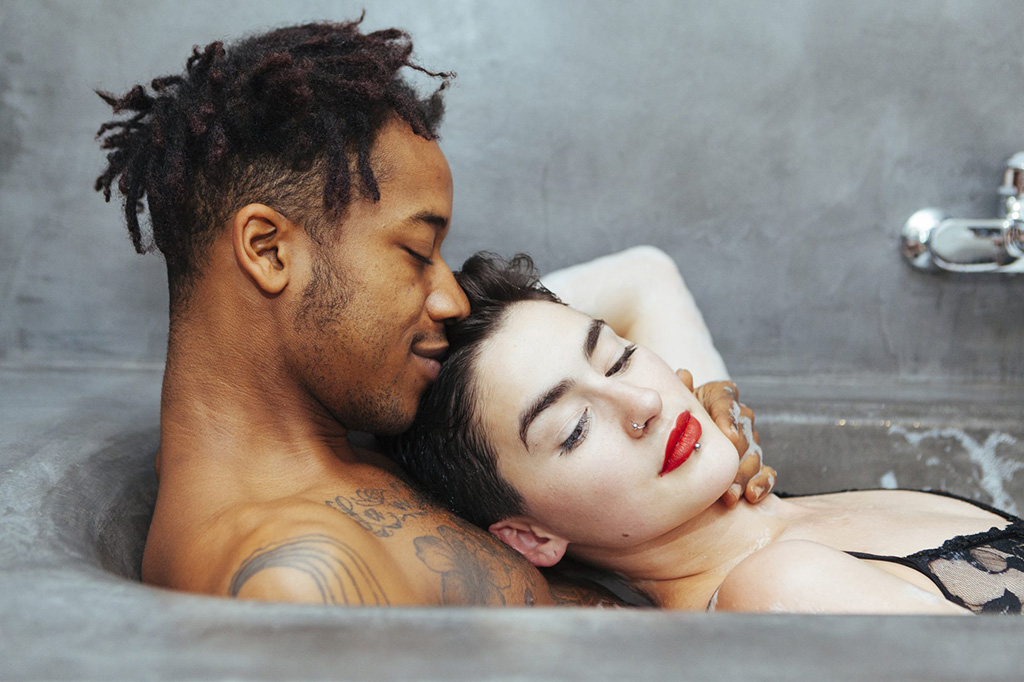 VIP Indoor SOAK cabana – A full private bathroom with Tub for Soak and Hydro rest area. Imagine your own private bathroom with tub an VIP private sitting area for ONLY YOU! Comes with Sea Mountain Salts for all day night private bath. Standard Round Bath tub,
$249-$399 10:00am -1:00am
add the elite dusk to dawn event for $499 per couple
---
FUNBOY Floating Cabana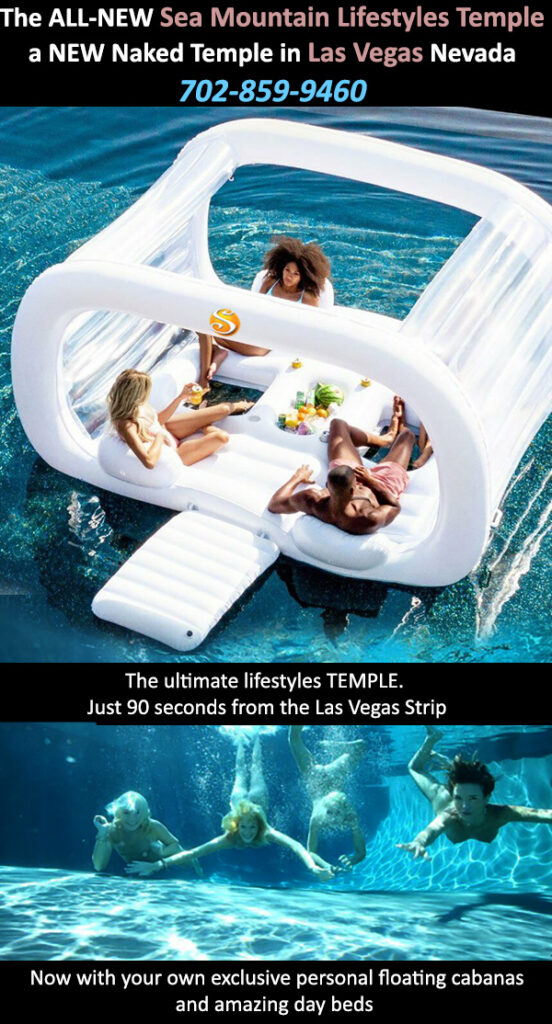 Dedicated VIP floating Cabana – Reserved for the day just for you both, A most unique pool aquatic experience
$149-$349
Add this to your VIP cabana or day bed experience for just an additional $169
Follow Sea Mountain on Social Media